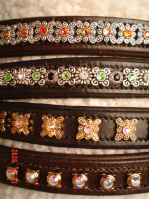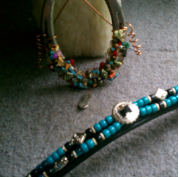 I also make custom browbands, bead-adorned horse shoes and charms to hang from your bridle, spurs, pet's collar, zipper pull.....wherever you can use a little charm!

Gold Is Here! The sliders now come in gold in several designs with limited crystal colors. See the linked PDF for photos.

Browbands are padded leather with Swarovski crystal sliders and/or natural stones. They are available in 14", 15", 16", 17" and 18" sizes. The 'loop' is approximately 1", so may need to be adjusted for wider headstalls. Let me know and I can have that done for you.

Contact me for available charm designs, design ideas, colors, etc. Right now the sliders I normally use are a little harder to find due to a change in the production company, so I've taken down the sample sheet. I can send you pictures of suggested designs and I'm pretty sure we can find something you'll LOVE and that is special for you. Browband prices are $70 MAX, down to $45, depending on the design chosen.

The bridle/purse/spur charms are semiprecious stones with various metaphysical properties. Each charm is tagged with the properties of the stones on it. They are $6 or 2/$10. Contact me for more info or if you have a specific request/need.

Horseshoes are $20. Let me know if you have a specific color group you prefer. If you have a shoe from a special horse that you would like decorated,
I can accommodate that as well for $15. I recently did a shoe for an eventer with beads in 'their' colors. It was one of the shoes worn for their first win at a new level, so it had a lot of meaning for the person.